For those that have been around our farm in Crecora it would be hard not to have noticed our Inter
national 674 Loader tractor.
This Tractor was bought new by John O Connell in 1976 . Since then it has proved to be highly adept at handling thousands of straw bales, drawing grain, turning straw and a myriad of other tasks that could be expected of it.
Naturally over the years age and the volume of work has taken its toll on the 674. So we decided after the harvest last year to spend some time and money to restore it to full working order as we expect it to be a working machine for many years yet!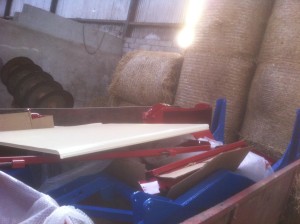 Some of the Bodywork after painting and blasting.
We Stripped the tractor completely, taking of all bodywork electrics and hydraulics. The bodywork needed some panels replaced such as the mudguards and was refurbished and resprayed.
The engine was stripped and given a rebuild including a repair on the timing chain guard which had been leaking oil for some time.
The rear axle got a new set of brake shoes and a new handbrake band.
The hydraulic system was renewed with many leaking hoses and fittings replaced.
We put a new electric loom in it as the old one was giving trouble for some time blowing fuses.
2 new headlights. and mudguard lights.
The cab was sandblasted and painted and 2 new doors and a windscreen frame fitted.
The loader was extensively refurbished including 2 new lift rams and the pivot points machined out and renewed due to excessive wear.
The original wheels were sand blasted and sprayed.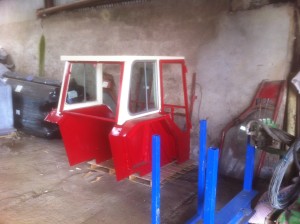 Obviously with the huge effort we put in to keep our customers supplied with feed over the last 6 months the restoration project was very hard to make progress on but now that we have a chance to prepare for harvest 2014 we need the tractor up and running to handle straw bales!
So we have started reassembly, hopefully over the next few weeks we can make good progress on finishing this project and for those that are interested I will put up some more information when we make more progress!