Sheep Feeds
We make many different types of Sheep feeds.
Intensive Lamb Ration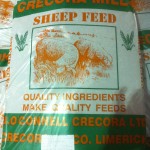 We have been making Intensive Lamb Ration for nearly 20 years now and have refined the formula gradually to produce a great high performing Lamb feed at great value to the customer. Using the best of Ingredients and a specially formulated Lamb mineral pack Intensive lamb is a great way to give your Lamb a head start in life. This is available in 25 kilo bags and can be delivered in 2ton pallets.
Ewe and Lamb Ration.
Our Ewe and Lamb Ration is a very popular product with our many Sheep Farmers. Using the best ingredients we have formulated an easily digestible high performing ration including whole maize that works very well with sheep. Available in 25 kilo bags from the store or delivered on 2ton pallets. It is also available in bulk form with a minimum order of 4 ton.
Our commitment to our customers
We are also available to help any of our customers in terms of Diet formulation, Animal Health questions or just a consultation on how we can help our customer's profits. We don't believe in just selling feed for selling sake but rather looking after our customers bottom line profit so our customers will stay with us in the future. This philosophy has grown our business from a farm based operation in 1986 supplying our local farmers to running three successful sites in Crecora, Castlemahon and Listowel while still being able to treat our customers on a one to one basis. We are here to help.
Keep an eye on www.crecoramills.ie for regular updates on Animal Nutrition and advice on how to maximise your on farm profits.
Paul O'Connell