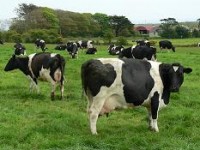 Dairy Feeds
We manufacture a wide range of Dairy feed for the Dairy sector. They are tailored to suit different farm management structures and different farm practices. At Crecora Mills we understand that every farm situation is different and we aim to provide a wide choice of top quality feed options to ensure our customers get good value nutrition for their animals and their farm system.
Superflo Dairy 16% nut and ration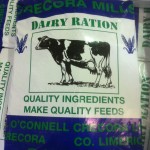 This is an ever popular great value product. With high cereal content it is formulated to supply the energy and fibre requirements for dairy cattle to complement good silage or grass. We use at least 25% Barley in this mix and it is formulated to provide balanced high energy and digestible fibre to aid efficient milk and milk solid production. It also contains magnesium to power the millions of chemical reactions in the cows metabolic system and to prevent grass tetany. The main ingredients of Superflo Dairy16 are Barley, Beet pulp, Wheat Gluten and Soya Hulls. It also contains a balanced mineral pack to help prevent animal health and metabolic problems. Contact us on 061 355186 for more details.
Superflo Dairy 18%
These are available in both nut and ration forms and are geared for high performing cows that depend on a good quality feed to provide energy and fibre to maintain milk yield. It is formulated using at least 25% Barley and high quality raw materials that are designed to be easily digested in the Rumen and also later in the small intestine to give maximum benefit for a longer period. The main ingredients are Barley, Wheat gluten, Beet pulp,  Distillers dried grains and toasted Soya. It also contains a balanced mineral pack to help prevent animal health and metabolic problems. Call us on 061 355186 for more details.
Dairy MaxGrass (Plus fertility)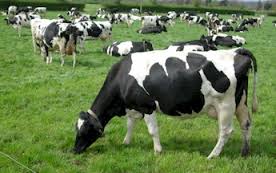 This product has been specially formulated using our experience from last years very successful Dairy Maize to Graze nut. The main ingredients are 30% Maize, Beet pulp, Soya Hulls, Barley and HiPro Soya. It also contains a Rumen Buffer agent, Active yeast and we can also put in our special and very successful fertility mineral pack. This feed is specifically targeted for cows making the transition from silage to grass and into the grazing season. The Buffering agent and the yeast will help the cow's rumen to stabilize during a very difficult time while she changes from 6 months silage, to grass. And when we get into very leafy second rotation grass this feed will help to stabilize her rumen to help offset acidosis from this very leafy turbocharged grass.  We are also including a fertility mineral pack if needed in this feed to help get the breeding process started. Our customers experience with this has been very positive from the last few years with more compact calving, higher conception rates and less empty cows. A balanced mineral pack is also provided as standard with Dairy MaxGrass.
DairyMax 18% nut Plus      
DairyMax 18% has been formulated to provide that step above the ever popular Superflo 18% nut in terms of digestible energy content and a high UFL value. This product has very quickly become the mainstay of most high performing dairy herds with customers reporting higher milk solids, high volumes of milk and cows not losing body condition.
Following our motto of "only mixing with the best" the ingredients of DairyMax18% include Maize, Barley, HiPro Soya meal and Wheat Gluten. It also includes a Rumen buffer and active yeast to increase food conversion efficiency even further.
Using this formulation our customers have found they can stimulate milk production and milk solid production and still hold body condition on the cows with the high level of quality feed materials such as Maize Barley and Beet pulp. We have formulated DairyMax 18% with a very high PDIE level. This is a very high level of digestible energy that will provide the fuel for a cow for efficient balanced milk production. The best salespeople for this feed are our customers who have developed a huge loyalty to DairyMax18 after trying other competitors products.
DairyExcel 20% Plus
Available in both a nut and a ration form, DairyExcel 20 is a very high performing feed full of high energy high protein no compromise raw materials. With a PDIE level of 135grms per kilo it really stands head and shoulders above the competition. Using our expertise we have formulated these feeds for those very high performing dairy cows that will really benefit from a top class high protein feed. With high maize and a high cereal content to provide energy and using high quality raw materials such as Toasted Soya meal, Rapeseed and Distillers grains the DairyExcel 20 can give any high performing cow a great opportunity to maintain high yields and remain in good body condition and health. We also include a Rumen Buffer and yeast to further increase food conversion efficiency to make sure our customers get the best value from this feed.Contact us on 061 355186 for more details.
We also make special formulations to our customers specifications where they have special requirements for their farm system. Contact us for more details.
Our commitment to our customers
We are also available to help any of our customers in terms of Diet formulation, Animal Health questions or just a consultation on how we can help our customer's profits. We don't believe in just selling feed for selling sake but rather looking after our customers bottom line profit so our customers will stay with us in the future. This philosophy has grown our business from a farm based operation in 1986 supplying our local farmers to running three successful sites in Crecora, Castlemahon and Listowel while still being able to treat our customers on a one to one basis. We are here to serve.
Keep an eye on www.crecoramills.ie for regular updates on Animal Nutrition and advice on how to maximise your on farm profits.
Paul O'Connell