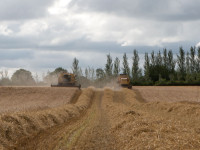 Straights
We also can supply straights in bulk to our customers.
Such as Rolled Barley, Ground Maize, Hi-Pro Soya, Soya Hulls, Rapeseed, Distillers, Palm Kernal etc. These are bulk deliveries generally.
Ring 061 355186 for a price as these are subject to market fluctuations.
Special Rations
We can manufacture a wide range of special rations to suit individual customers. Thanks to our extremely flexible facilities and our experience we can manufacture special rations with only a minimum of notice, usually 24 to 48 hours. Call 061 355186 to be put in touch with the sales person in your area to advise on suitability.
Special Nuts
We can also manufacture Special formulations in pellet form. Through our extensive knowledge in pellet manufacture and through our state of the art facilities we have the ability to make a wide range of products. A 2 to 3 day lead time is needed to manufacture special pellets due to the intensive process of making them.
Our commitment to our customers
We are also available to help any of our customers in terms of Diet formulation, Animal Health questions or just a consultation on how we can help our customer's profits. We don't believe in just selling feed for selling sake but rather looking after our customers bottom line profit so our customers will stay with us in the future. This philosophy has grown our business from a farm based operation in 1986 supplying our local farmers to running three successful sites in Crecora, Castlemahon and Listowel while still being able to treat our customers on a one to one basis. We are here to help.
Keep an eye on www.crecoramills.ie for regular updates on Animal Nutrition and advice on how to maximise your on farm profits.
Paul O'Connell