Beef Feeds
We stock a wide range of feed for Beef cattle in both Ration and Nut form for our customer's convenience.
High Energy High Protein Feeds
Stockgro Ration and Nut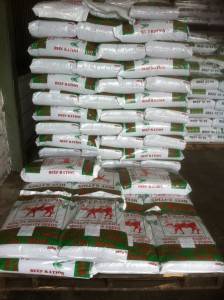 This multipurpose product is designed for younger animals with a high requirement for digestible protein and energy such as in-calf heifers and weanlings. This product has proven very popular as a multi purpose feed where there are a lot of different types of stock on farm. It is available in both Nut and Ration form.
We use products such as Maize, Barley, Soya, Soya Hulls, Beet pulp and Distillers dried grains to ensure a high quality, high energy product at a price that is good value to our customers.
Contact us for more Information.
Barley Beef ration 16% and High Energy Beef nut 16%
These are very popular multipurpose feeds with high cereal content and a high protein and energy percentage to help supply the digestible protein and fibre to a growing beef animal.
Obviously it is the customer's preference whether they use the ration or the nut form of this feed. An adequate supply of this with good quality silage or grass will enable the bones and the frame of the animal to reach maturity faster and thusly to enable them to be finished faster and more cost effectively.
Beef Finisher Ration and Nut Feeds
We supply many different options for customers to finish their cattle.
High Maize Beef ration and Nut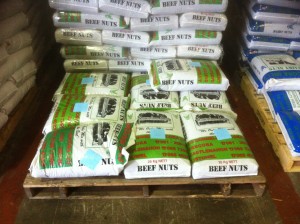 Maize is a fantastic product to finish cattle on and with this in mind we have formulated these feeds with a high percentage of maize (30%) along with a high starch content to help really push a beef animal to finish with a minimum risk of acidosis or other  digestive problems. We also have included a rumen buffer and active yeast along with energy in the form of Megalac in these feeds to help with muscle confirmation and to supply that extra bit of energy for full thrive.
Beef Elite Finisher
This feed is as it suggests as good as good as it gets in terms of finishing feed for Beef Cattle. This has been trialled over the last few years and this is its first year available on the open market. With a very high Maize and Cereal content, plenty of easily digestible Energy and Fibre, added Megalac and a Rumen buffer and Yeast to aid digestion this is proving to be very popular with farmers looking to push on and put a great finish on Beef animals in the 6 to 8 weeks before finishing.
Contact us for more details.
Cattle Ration 14%
In light of fodder shortages we at Crecora Mills have formulated a good value alternative to purchasing expensive silage.
Cattle Ration is an inexpensive alternative compound ration for those farmers that wish to feed higher levels of compound feed to save on Fodder. Ingredients include: Beetpulp, Rolled Barley, Distillers, Soya Hulls, Rapeseed, Palm, Wheatfeed and minerals.
Call us on 061 355186 for price details.
Our commitment to our customers
We are also available to help any of our customers in terms of Diet formulation, Animal Health questions or just a consultation on how we can help our customer's profits. We don't believe in just selling feed for selling sake but rather looking after our customers bottom line profit so our customers will stay with us in the future. This philosophy has grown our business from a farm based operation in 1986 supplying our local farmers to running three successful sites in Crecora, Castlemahon and Listowel while still being able to treat our customers on a one to one basis. We are here to serve. Call 061 355186 to be put in touch with one of the nutritional advisory team.
Keep an eye on www.crecoramills.ie for regular updates on Animal Nutrition and advice on how to maximise your on farm profits.
Paul O'Connell