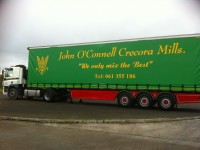 Delivery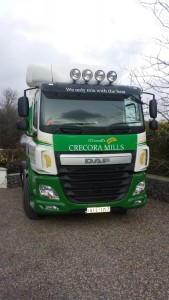 Our products are delivered by our own fleet of modern reliable transport. We keep our own fleet of transport to ensure that deliveries go out on time and all products are traceable from source to farmer. Our trucks are maintained to the highest standards to ensure they remain road safe, environmentally friendly and reliable for delivery to our customers.
Due to high fuel costs and our wish to keep prices of feed down we try to fill a load in an area where possible for deliveries in order to give best value to our customers.
We deliver to Co Limerick Co Kerry, North Co Cork, Co Tipperary and Co Clare. Outside of these locations can also be accommodated but usually need a full load delivery to recoup diesel costs.
There is normally a 2 day lead time on deliveries but we can be flexible for our customers also.
Bag deliveries
We can deliver Animal feed in bags on 2 ton pallets for collection if you have your own forklift or telehandler or by using our own truck mounted forklift. Minimum order is 2 ton and we deliver to most parts of the Mid-West.
Bulk Delivery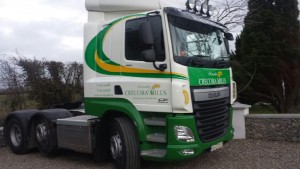 We also have a fleet of 8 wheeler blower rigid trucks and articulated blower trucks also for blown deliveries. Minimum Bulk order is 4 tons.
18 ton tipped loads can also be accommodated by our 8 wheeler rigid bulk truck or 26 ton loads in our articulated bulk truck.
Call us on 061 355186 for more details.