Horse Feeds
Here at John O'Connells Crecora Mills we have a long tradition with making Horse Feed. We supply oats to many leading racehorse stables in the Mid West.
As with most farming families we have a long history of keeping working horses. These days working horses are a thing of the past with todays leisure horses being kept for hunting, jumping, polo and show horses.
Today the demands of feeding horses and their dietary requirements have changed somewhat from the days of the working horse.
With this in mind we have developed our Horse feed for these leisure animals.
Horse Ration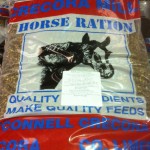 This ration has been very sucessful over the last 15 to 20 years. Made from Rolled Oats, Rolled Barley, Soya, flaked maize and Grass nuts etc it is a very palatable feed that provides the protein and energy needed for good muscle development and a balanced mineral intake to maintain good health. The key to understanding good horse nutrition is understanding how to keep their Rumen balanced and working well. This allows the Horse to break down fibrous material such as hay and extract the energy from it for muscle development.
Horse Nut
This Oatfree Cool Horse Nut is specially formulated to provide a good source of digestible energy and fibre to horses. It is formulated without Oats which has a cooling effect on the animal. Using our experience of Horse nutrition we have formulated our Horse nut to complement good quality fodder. It will help the animal get more from its fodder and generate more energy for muscle development. Try it out and see the great value as it comes in 25kg bags at a very reasonable price.
Rolled Oats
We have a long history in producing rolled Oats for the Horse market. Our Rolled Oats is slightly Molassed to increase palatability and is available from the Farm stores in easy to handle 16.66kg bags.
Rolled Barley
Rolled Barley is how we started our business and is still part of it going on today. We have top quality Rolled Barley slightly Molassed available from the Farm stores in 20kg bags.
Beetpulp
We also stock Sugar Beetpulp nuts in 25 kg bags in all the Farm stores. This is often used in Horse nutrition and is commonly steeped in water to aid digestion.
Our commitment to our customers
We are also available to help any of our customers in terms of Diet formulation, Animal Health questions or just a consultation on how we can help our customer's profits. We don't believe in just selling feed for selling sake but rather looking after our customers bottom line profit so our customers will stay with us in the future. This philosophy has grown our business from a farm based operation in 1986 supplying our local farmers to running three successful sites in Crecora, Castlemahon and Listowel while still being able to treat our customers on a one to one basis. We are here to serve.
Keep an eye on www.crecoramills.ie for regular updates on Animal Nutrition and advice on how to maximise your on farm profits.
Paul O'Connell